Enter the World of Telepresence

"Telepresence - The use of remote controlled cameras for apparent participation in distant events producing a sensation of being there".

OPT designs and manufactures a full product line of high and standard definition underwater IP video equipment. Products include: cameras, underwater lighting, remote power systems, data recorders and wireless network components. Originally designed for research with manta rays, the OceanCam is now being employed in research, education, security and other commercial oceanographic applications. Cameras, underwater lighting and accessories are sold through international distributors and through direct sales staff at the Santa Cruz, California facility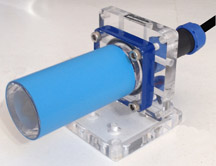 Introducing Two New Mini Full High-definition Cameras
The AquariCam™ OPT-14A is our smallest and most affordable 1080p high-definition underwater Internet camera and is designed for discrete placements in small aquariums, pools or tanks. The OceanCam™ OPT-14WM is capable of depths down to 100 meters making it ideal for deployment on sub-sea research stations or on ROVs. Learn More Press Release.
NEW -- Waterproof Covert Camera Kit for Law Enforcement
Our remote head camera is now being used in law enforcement applications. Its small size and and waterproof capabilities makes possible several covert deployments. The special Law Enforcement Kit comes with one of three concealment options and special industry pricing (Call for details). Learn More
Coming in July -- Underwater High-definition cameras for the Broadcast Industry
Over the last 8 years we have established a client base that includes major companies and organizations and spans four oceans around the world:
Corporations and Universities:

NOAA
National Geographic Society
Wood's Hole Oceanographic Institution
Int'l Fund for Animal Welfare (IFAW)
University of Victoria Neptune
Sea Shepard Society
US Army Corp of Engineers
Battelle Ocean Systems

Public Aquaria:

New England Aquarium
Dallas World Aquarium
Aquarium of the Pacific
Georgian Aquarium (Discovery)
National Aquarium in Baltimore
Tennessee Aquarium
and many others...
The latest generation of high-definition cameras are now available in the popular AquariCam and OceanCam housings. Choose from 720p or 1080p HD with either 360-degree endless or 340-degree rotation. Optical zoom of either 20x or 30x increases the working range of the cameras.

Now available - High-speed high-definition cameras with 1080p video at 60 frames per second and a 30x optical zoom. Learn More



Shark Week's SharkCam -- Animal Planet Live Live video high-definition cameras at the National Aquarium allow you to view sharks.




Checkout IFAW's Underwater Live Webcam:
Russian Beluga Whale Nursery




  Full Product Catalog



  Product News Registration



  Request Quotation



  Contact Us Email Form